My Grandmother's Madeleines Recipe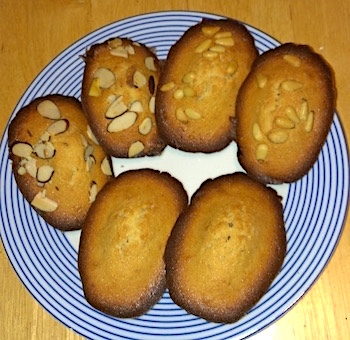 This is the recipe from my Grandmother. I've tried several others but of course this one is my favorite.
Prep Time: 30 minutes
Cook Time: 10-15 minutes
Ingredients for 18 madeleines
120 grams of flour
120 grams of butter
120 grams of sugar
2 eggs
1 pinch of salt
1 teaspoon of yeast or baking powder
(optional) 1 lemon zest and/or some vanilla extract
(optional) pine nuts or raw sliced almonds
(optional) raspberries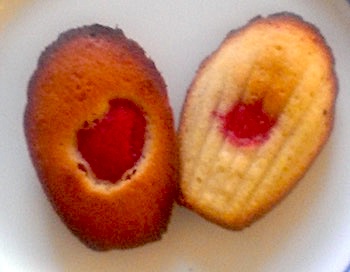 Tools
Madeleines pan (preferably a metal one)
Sifter
Instructions
Prepare yeast according to instructions on package, or use baking powder
Pre-heat oven at 375°F
Mix soft (but not melted) butter and sugar
Beat the eggs
Slowly add the eggs and the flour (using the sifter) to the mix
Add a pinch of salt
Add the yeast or baking powder
(optional) Add the lemon zest or vanilla extract
Mix until the dough is homogeneous
Grease the madeleine pan w/ melted butter
Fill each slot on the madeleines pan w/ dough
(optional) Add sliced almonds and/or pine nuts on top
(optional) Add a raspberry in the center
Put in the oven for 10 to 15 minutes (until golden)
Get the madeleines tray out of the oven, and the madeleines out of the tray, and let them cool down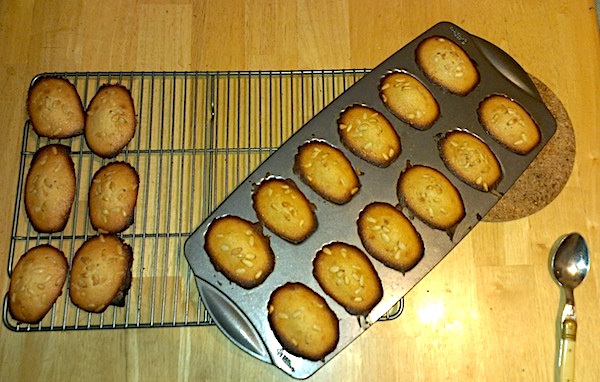 Notes
Best on the day they are baked, but can be kept for a week in a container.
It is possible to find French butter at 83% fat.
With the right size of eggs, my Grandmother's recipe uses equal weight of the 4 main ingredients.

Madeleines as ingredients in other recipes